Hello!
Hey! We are Marianna and Chris or in other words – Greek Nomads! A Greek couple hungry for tasting new flavors, intrigued by hearing new stories from locals and fascinated by getting lost in secret streets and magical little neighborhoods all over the world! We are passionate for travelling and thus, we embrace everyday life along with our favorite accessory – our camera but also our unhidden big smile! Those are our weapons to discover in the best way every single place in this planet – whether this is a tower, a park or a little square! Anything expresses culture authenticity in our eyes is captured and showcased! Our 'Nomad' way of life, a way that makes us change places very often and therefore, not having a permanent basis, arouse from our irresistible desire to experience every single spot the same way that a local would.
We travel for the tastes, we travel for the experiences and of course, we travel for the new feelings created! We travel for the most uncharted alley of a village in Tzoumerka, North Greece, the most magnificent little streets in big cities as well as the most hidden treasures of the charming city of Athens! We are addicted travelers who can't resist on that sweet temptation called traveling.
"Marianna is the one with the most curious spirit! She is so active! She won't leave a minute without utilizing it and do something whatever this is! I call her hyper and she is getting mad at me! She is getting so excited when it comes to write or read something. If you ever see her stay stable for more than half an hour, oh well 'Houston we've got a problem!' She loves scheduling everything (in almost such a compulsive manner!) and she acts with determination in everything unless she gets to choose a meal for dinner! As a typical Greek girl, if you give her sun, sea and fries with oregano, I can ensure you that she will be the happiest girl in the world! I've never seen on earth a human being eating so many fries as Marianna!"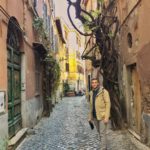 There are two topics that Chris is super excited to talk about. Yes, you guessed right, the first one is chatting about all those places he has visited around the world or the new ones he is planning to discover! However, there's one more topic that you could raise with him and I ensure you he becomes as excited as a little child! Basketball! Chris has been playing basketball for more than 12 years and I can tell how satisfied he is from his face while playing his favorite sport! But there's one more interesting thing about him which makes him super happy! He loves cooking! He can spend hours on in front of YouTube watching videos about cooking and new recipes and then trying to apply those in the kitchen! Thank God, most of the times his cooking trials are successful! I'm such a lucky girl! Main things that define Chris is that he is very inpatient and compassionate but due to those features of his character he ends up booking trips without asking me – which always ends up being a super pleasant surprise! I'm never bored!